Episode 450: Trans-Siberian Orchestra's Jeff Plate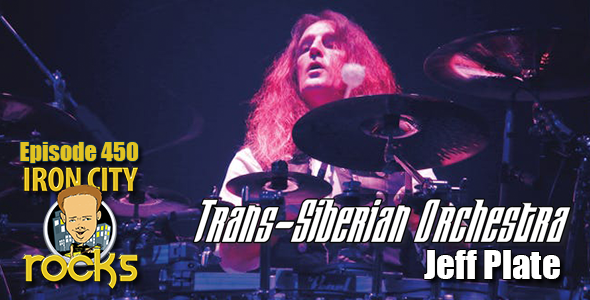 In Episode 450 of the Iron City Rocks Podcast we are joined again by Jeff Plate of the Trans-Siberian Orchestra. Jeff talks to us about an upcoming live stream the band will be doing performing Christmas Eve & Other Stories in a full show setting on December 18th. We talk about the work involved in putting on a full-scale show for a one-off performance, a little about what die-hard TSO fans can expect and even a little about how to video the drummer will be more visible than in a traditional live setting. More information can be found at www.tsolivestream.com.
We also treat you to a sneak peak of Jeff's new project Alta Reign. Jeff is joined by TSO keyboardist Jane Mangini , Tommy Cook (guitars/lead vocals), Collin Holloway (guitars/lead vocals), Kevin McCarthy (bass, vocals) and Zach Hamilton (keyboards, guitars/vocals) and together they will be releasing Alta Reign's debut album Mother's Day on January 8 on Rat Pak Records.
Podcast: Play in new window | Download