DVD Review: Alice Cooper's Welcome To My Nightmare Special Edition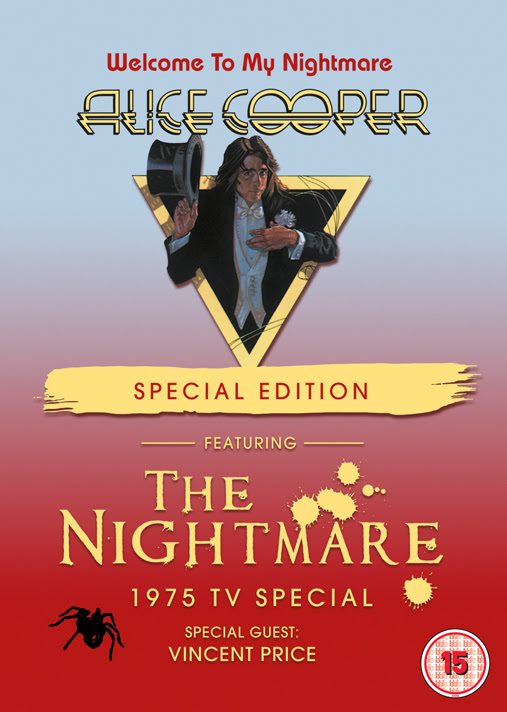 Welcome To My Nightmare is not new to DVD. The album of the same title marked Alice's first true solo album after the disbanding of the Alice Cooper Band. The landmark album inspired the live show captured in the movie and decades later a sequel to the concept album. But for those who are Alice fans that haven't gotten around to getting the DVD might have hit pay-dirt. On September 8 Eagle Rock Entertainment will release Welcome To My Nightmare Special Edition. The inclusion of the Nightmare special was what made this reissue a treasure for hardcore fans. Set inside Alice's own nightmare, this is somewhat of a Broadway take on the music. Alice doing soft-shoe with skeletons, Vincent Price showing off his spider collection, serenading manikins that break into ballet with "Only Women Bleed", singing "Cold Ethyl" on a stage full of fake snow and refrigerators, and much more from the mind of Alice. It is interesting to see an album that you have heard so many time and seen live often done in a video format. In the 80's many times you saw the video before you heard the song. You had a visual reference. Watching this was like seeing what MTV would have gotten years earlier but Alice. "Department of Youth" in particular was a clever take with Alice crawling out of a tabloid and then dancing across his press clippings.
What can say about Welcome to My Nightmare Special Edition? We think you're gonna like it, we think you're gonna feel you belong.
Track listing
"Welcome To My Nightmare":
01. The Awakening
02. Welcome To My Nightmare
03. Years Ago
04. No More Mr. Nice Guy
05. I'm Eighteen
06. Some Folks
07. Cold Ethyl
08. Only Women Bleed
09. Billion Dollar Babies
10. Devil's Food
11. The Black Widow
12. Steven
13. Escape
14. School's Out
15. Department Of Youth
"The Nightmare":
01. Welcome To My Nightmare
02. Devil's Food
03. Some Folks
04. Only Women Bleed
05. Cold Ethyl
06. The Black Widow
07. Years Ago
08. Department Of Youth
09. Years Ago (Reprise)
10. Steven
11. The Awakening
12. Ballad Of Dwight Fry
13. Escape
14. The Awakening (Reprise)