Behind the Veil with Pamela Moore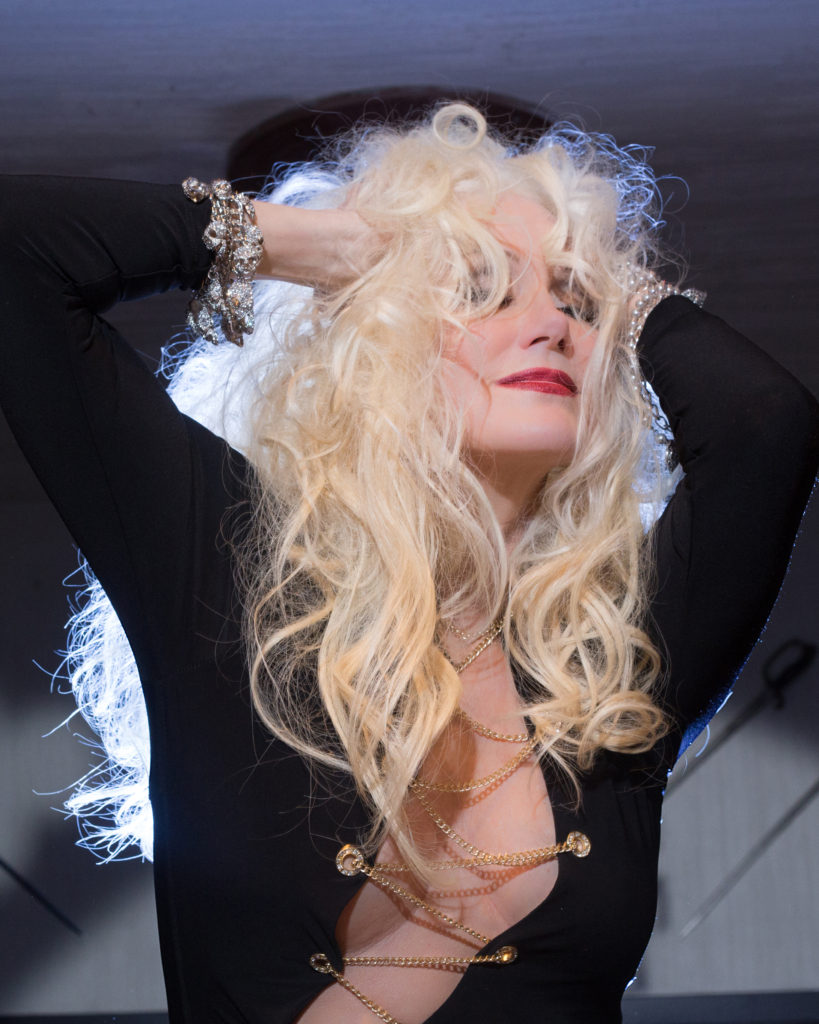 By Dave Kasiorek
Recently I had great privilege of interviewing the one and only "Sister Mary" herself, Pamela Moore. The conversation was filed with great detail and deep thoughts about her music, her journey as a singer, her life in general and her plans for an upcoming tour. Pamela's latest album Behind The Veil was released in May of 2018, after some personal issues delayed its original release. The album was supposed to be out 3-4 years prior to its release but Pamela's mom passed away during the writing process and that brought the project to a halt. Her mom's passing brought a new element to the music with deep lyrical content, heavy hitting music, and close to the heart vibe. When asked if she had a favorite song on the album, she said that over time her favorites change but, "My Eternal" was close to her heart since it was the first song written after her moms passing. She also cited the album closer "Run" because the lyrical content of that particular song is how she feels in her life right now. Getting older, everything moving so fast, and the journey through life. Pamela asked me if I had any favorites on the album and interestingly enough "My Eternal" was my favorite at first listen. I told her that "I'm a sucker for slow starting songs that burst with brutal riffs and crushing dialogue, I love that 80's half ballad, half hard rock vibe in a song. I also cited "Just Breathe" as a really simple but well written acoustic song, stating that sometimes stripping things down brings a new element to the music with its rawness. Album closer "Run" also stuck out to me due to it's cool rhythm and "Beneath The Voodoo Marsh" for its Black Sabbath like dark grooves and an eerie breakdown in the middle. Pamela also talked about the amazing musicians she had for this album and the great special guests that also helped bring this album to life such as Rudy Sarzo (bass), Casey Grillo (drums), Michael Posch (guitar), Craig Church (guitar). Special Guests: Ralf Scheepers, Randy Piper and Elliot Anders.

I wanted to find out how Pamela got her beginnings as a professional singer and where she learned to sing the way that she does. I told Pamela that she has a lot of character in her voice and such a great storytelling aspect that adds another element to the music, I asked her about that and her theatrical start. Pamela said that growing up she was shy but wanted to perform. Theater helped her believe in herself and taught her the importance of delivery in words. Pamela talked very highly of how a singer can deliver a word to bring a whole new meaning and vibe to the lyric. Word phrasing helps drive storytelling in a song.
Pamela lead right into the next topic of how she has her own business as a vocal teacher. She has been teaching singing in her own business for several years now, and loves to get to work with so many different people that bring something different to the table. She talked about having to love what you do and be true to yourself in music, pushing the importance of word phrasing and delivery to get the best out of her students.
Pamela did not start in metal music and I wanted to know how she got into it. I asked her if the first two albums that she wrote which was more of a pop style was her choice or did the label force her into that. Pamela stated that she loves a lot of different styles of music and that it wasn't really her choice but neither was metal music. All the songs on those records were not written by her but written for her and that some of those song writers went on to write songs for Whitney Houston. She said that if she could go back in time she would never change anything because she met so many wonderful people along the way and that those albums are close to her heart because it was her beginning. Pamela said going straight from high school to putting together an album and going on tour with bands like Joe Cocker, Three Dogs Night, etc was a great experience for her at such a young age and really helped bring out her performing abilities and belief in herself.
So the million dollar question, how did Pamela become "Sister Mary"? It was such a cool experience to hear about this part of her life that it gave me chills as I listened. Pamela said that her role as "Sister Mary" has really helped build a fan base for her solo career and talked again about how she never would have expected metal music to be on her horizon. With all the people that she met along the way earlier in her career, one of them was Chris Degarmo (former Queensryche guitarist). Upon meeting Chris she was invited to Montreal to come out and try to duet on a song for the album Operation Mindcrime. The duet became a hit on the song "Suite Sister Mary" and her role as sister Mary was born. Pamela stated that "I didn't find metal music, metal music found me". After going on tour with Queensyrche in the 90's she joined the band Radar as lead singer. Despite the Radar project not really seeing the light she still remains close with the band members. All of the collaborations that Pamela has done whether it be with Queensryche, Solna, Edens Curse, and more, they all taught her something that she would bring with her in her solo career. Her favorite part of being able to work with so many great bands and musicians over the years is to see how everyone's approach to music is different in how they write, deliver, and perform.
Performing live is one thing and acting in a music video is another. I wanted to get some detail into her latest music video for "Wifi-Zombies" off of the new album "Behind The Veil". This was a really fun project for Pamela in which she hoped to be one of the zombies but ran out of time to do so. She said that the song itself almost didn't work out during the writing process but a bit of tweaks made it work and they decided it would be a perfect song for a music video. The video itself is obviously about how the people in today's world are so glued to their devices. Pamela said that people wouldn't know how to live without smartphones, and they are great to have but there comes a time to put them down and have the human connection. She is saddened by the drastic amount of teenage depression and she contributes that to over use of smartphones and lack of human activity.
Born and raised in Seattle, Pamela had the great privilege to grow up in such a dominant music culture, but what are things like today in Seattle and the music industry? Pamela is proud to call Seattle her home and stated that the music scene from the mid to late 80's and grunge scene in the 90's was so integral to the music industry. The music scene now in Seattle is very little to none and the homeless rates are rising close to San Francisco's. The music scene as a whole is drastically different in today's world due to digital media. Pamela talked about having to really know how to utilize social media and music streaming services to be able to promote yourself and make money. You do get paid for each listen of your song on either of these sites but sometimes it can only be a penny a listen, which is a sad thing for artists, old and new. Pamela released her new album on a private label which is also a bold move due to not having the funds for the promotional side that a big time label carries. She has no regrets in her life as a singer and wouldn't change anything that she has done up to this point in her career.
The last topic discussed was touring. I didn't see any tour plans in the future and was curious if there would be a tour. Yes! Pamela Moore will be going on tour! Touring is difficult now due to Pamela's personal business and her band mates having other jobs and families. But she has a agent looking into narrowing down touring plans for the near future. Pamela is hoping that sometime in August the promotion for the tour will start and stated that it will most likely be over a few weekends and not a traditional tour where you're on the road for months at a time. Next years festivals are also on the horizon for her tour plans. Pamela wants to get her new music out there because she said that the new songs really come to life when they are heard live. They had a album listening party which was a huge success and gave them some light into how great touring will be. They are putting a great set list together that fans will love to see live. There is not better feeling than getting up on stage and seeing people connect with you through your music and performance.
Visit www.pamelamoore.net for more information and upcoming tour dates.